I have been surprised as many, many new Calvinist argue that it is unbiblical to ask Jesus in their heart.
I recently heard a preacher telling people not to ask Jesus in their heart. I asked some SBC Calvinists about this and they agreed. I heard responses like...
"
Asking "Jesus into your heart" is something that makes me cringe, as it's not biblical. "

"The heartburn is over whether God's sovereignty is trumped by man's. An implication of "ask Jesus into your heart" is the idea that Jesus must wait to do anything with your heart until you invite him in...…..

God gives us a new heart and we respond in faith and repentance. So why use language that a) is not used anywhere in the Bible as a suggested response to the Gospel and b) undermines God's sovereignty by making it contingent on man's decision...…..

Lots of people believe that God is standing there knocking and unless we open the door and let him in, he's not entering. Christ is a gentleman, after all.

"

"Asking Jesus into your heart is not in the Bible (and is kinda weird). We are called to repent and place our faith in Him (His work on the cross, substitutionary atonement)."

"

However, it has no foundation in the Bible. Why hang on to a man-created relic?"
https://www.amazon.com/Stop-Asking-Jesus-Into-Heart/dp/1433679213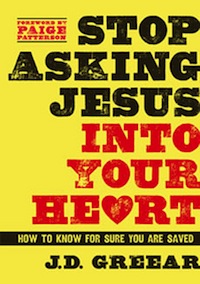 Now this is generally understood as the way to express being born again. So it is sounds pretty crazy. What they are trying say is that "asking Jesus in your heart" is an unbiblical phrase and therefore unbiblical. Even claiming that a person who asked Jesus in their heart might not be saved. Now there can be a point made that if a person only hears "ask Jesus in your heart" with zero back ground might hear the phrase and think of a false Christ instead of the one in the bible. Typically though this is usually part of a several messages explaining the gospel and rarely if ever isolated. Plus, is the premise true, that we have to word a gospel invitation verbatim to a biblical formula in order for God to save a soul?
Now as I deal with these issues, I am not focusing on the issue of drawing. The gospel is the power of God unto salvation. So the Holy Spirit draws us spiritually when the gospel is presented and we do indeed need that drawing.
Apparently not: Acts 2:
40 And with many other words did he testify and exhort, saying, Save yourselves from this untoward generation.
41 Then they that gladly received his word were baptized: and the same day there were added unto them about three thousand souls.
So the real question should be
"Is asking Jesus in your heart unbiblical?
1. We call out to Jesus and we shall be saved.
Acts 2:
21
and it shall come to pass,
that
whosoever shall call on the name of the Lord shall be saved."
websters 1828 dictionary
Call)3. To request to meet or come.

He sent his servants to call them that were bidden. Math. 22.
What is the name of the lord?
Philippians 2:

10 that at the name of Jesus every knee should bow, of things in heaven, and things in earth, and things under the earth;

11 and that every tongue should confess that Jesus Christ is Lord, to the glory of God the Father.
Paul called upon Jesus
Acts 9:

5 And he said, Who art thou, Lord? And the Lord said, I am Jesus whom thou persecutest: it is hard for thee to kick against the pricks.

6 And he trembling and astonished said, Lord, what wilt thou have me to do? And the Lord said unto him, Arise, and go into the city, and it shall be told thee what thou must do."

2. We have to call upon Jesus
Acts 4:

12 Neither is there salvation in any other: for there is none other name under heaven given among men, whereby we must be saved."

John 14:

6 Jesus saith unto him, I am the way, the truth, and the life: no man cometh unto the Father, but by me.

7 If ye had known me, ye should have known my Father also: and from henceforth ye know him, and have seen him.

3. We need to receive Jesus
john 1:
11 He came unto his own, and his own received him not.
12 But as many as received him, to them gave he power to become the sons of God, even to them that believe on his name:"
websters 1828 dictionary
receive)

1.

To take, as a thing offered or sent; to accept. He had the offer of a donation, but he would not

receive

it
Romans 5:

And not only

so, but we also joy in God through our Lord Jesus Christ, by whom we have now received the atonement.
Romans 8:

For ye have not

receive

d the spirit of bondage again to fear; but ye have

received the Spirit of adoption, whereby we cry, Abba, Father.


4. Asking is receiving with God
Matthew 7:7 Ask, and it shall be given you; seek, and ye shall find; knock, and it shall be opened unto you:

8 for every one that asketh receiveth; and he that seeketh findeth; and to him that knocketh it shall be opened.

9 Or what man is there of you, whom if his son ask bread, will he give him a stone?

10 Or if he ask a fish, will he give him a serpent?


11 If ye then, being evil, know how to give good gifts unto your children, how much more shall your Father which is in heaven give good things to them that ask him?"
So it is natural to approach God.
Mark 10:15

Verily I say unto you, Whosoever shall not

receive the kingdom of God as a little child, he shall not enter therein."
Luke 11:
9 And I say unto you, Ask, and it shall be given you; seek, and ye shall find; knock, and it shall be opened unto you.
10 For every one that asketh receiveth; and he that seeketh findeth; and to him that knocketh it shall be opened.
11 If a son shall ask bread of any of you that is a father, will he give him a stone? or if he ask a fish, will he for a fish give him a serpent?
12 Or if he shall ask an egg, will he offer him a scorpion?
13 If ye then, being evil, know how to give good gifts unto your children: how much more shall your heavenly Father give the Holy Spirit to them that ask him?
So the kingdom is received and if we ask, the father will give us the Holy Spirit!

5. receiving is believing!
John 7:38 He that believeth on me, as the scripture hath said, out of his belly shall flow rivers of living water.


39 (But this spake he of the Spirit, which they that believe on him should receive: for the Holy Ghost was not yet given; because that Jesus was not yet glorified.)
There is an inherit connection to belief in Christ and receiving the Holy Ghost.


new heart?


Ezekiel 36:26

A new heart also will I give you, and a new spirit will I put within you: and I will take away the stony heart out of your flesh, and I will give you an heart of flesh"




This new Calvinist crowd uses this verse to justify their theology saying that you can not ask Jesus in your unregenerate because Now this sounds good if we just look at the verse Isolated from the chapter. In fact, in hermeneutics we call this eisegeses. However, when we look at the context we get a completely different story.

Ezekiel 36:22 Therefore say unto the house of Israel, Thus saith the Lord

God

; I do not this for your sakes, O house of Israel, but for mine holy name's sake, which ye have profaned among the heathen, whither ye went. 23 And I will sanctify my great name, which was profaned among the heathen, which ye have profaned in the midst of them; and the heathen shall know that I am the

Lord

, saith the Lord

God

, when I shall be sanctified in you before their eyes. 24 For I will take you from among the heathen, and gather you out of all countries, and will bring you into your own land.25 Then will I sprinkle clean water upon you, and ye shall be clean: from all your filthiness, and from all your idols, will I cleanse you. 26 A new heart also will I give you, and a new spirit will I put within you: and I will take away the stony heart out of your flesh, and I will give you an heart of flesh. 27 And I will put my spirit within you, and cause you to walk in my statutes, and ye shall keep my judgments, and do them. 28 And ye shall dwell in the land that I gave to your fathers; and ye shall be my people, and I will be your God."

This is not dealing with individual saints but the literal nation of Israel! You can not apply God's dealing with groups as equivalent with God's dealing with individuals. The reason for this is that a group of multiple individuals are not a single individual. For instance if a group has believers in one generation and unbelievers in the next it could be seen as an apostasy. Many of us would believe that "once saved, always saved" and yet have no problem with this when observing a group. for instance a church.
Like this warning to the church of Ephesus..

Revelation 2:22 Remember therefore from whence thou art fallen, and repent, and do the first works; or else I will come unto thee quickly, and will remove thy candlestick out of his place, except thou repent."
Obviously the same rule applies to the Ezekiel passage which applies to Revelation.





6. hearts for God

Mark 12:32 And the scribe said unto him, Well, Master, thou hast said the truth: for there is one God; and there is none other but he:

33 and to love him with all the heart, and with all the understanding, and with all the soul, and with all the strength, and to love his neighbour as himself, is more than all whole burnt offerings and sacrifices.

34 And when Jesus saw that he answered discreetly, he said unto him, Thou art not far from the kingdom of God. And no man after that durst ask him any question. Our hearts are commanded to love God, in fact it is commanded of the unbelieving Jews.
Luke 6:45

A good man

out of the good treasure of his heart bringeth forth that which is good

; and an evil man out of the evil treasure of his

heart

bringeth forth that which is evil: for of the abundance of the

heart

his mouth speaketh."


Now no one is truly good, but could Jesus speaking of general good. While we have evil in our hearts, could there be individual good things which come from our heart? An evil man, may still love His child and loving your child is good. Good does not always have to be absolute but could be the remnants of our origin in the similitude of God.

Luke 24:25

Then he said unto them,

O fools, and slow of heart to believe
all that the prophets have spoken:"


The natural man(fools) is slow of heart to believe, this is true.





Luke 24:32

And they said one to another, Did not our

heart burn within us, while he talked with us by the way, and while he opened to us the scriptures?"


Here we see Jesus giving people a sensation in their heart.




John 14:1Let not your heart be troubled: ye believe in God, believe also in me."

Jesus stops our heart from being troubled.

John 14:27

Peace I leave with you, my peace I give unto you: not as the world giveth, give I unto you. Let not your

heart

be troubled, neither let it be afraid."

Acts 8:37And Philip said, If thou believest with all thine

heart

, thou mayest. And he answered and said, I believe that Jesus Christ is the Son of God."

Belief is with the heart.

Acts 15:And when there had been much disputing, Peter rose up, and said unto them, Men and brethren, ye know how that a good while ago God made choice among us, that the Gentiles by my mouth should hear the word of the gospel, and believe.

8 And God, which knoweth the hearts, bare them witness, giving them the Holy Ghost, even as he did unto us;

9 and put no difference between us and them, purifying their hearts by faith."

Romans 10:

6 But the righteousness which is of faith speaketh on this wise, Say not in thine heart, Who shall ascend into heaven? (that is, to bring Christ down from above:)

7 or, Who shall descend into the deep? (that is, to bring up Christ again from the dead.)

8 But what saith it? The word is nigh thee, even in thy mouth, and in thy heart: that is, the word of faith, which we preach;

9 that if thou shalt confess with thy mouth the Lord Jesus, and shalt believe in thine heart that God hath raised him from the dead, thou shalt be saved.

10 For with the heart man believeth unto righteousness; and with the mouth confession is made unto salvation."

The Word of the Gospel reaches into the heart so that the heart may believe.

Galatians 4:And because ye are sons, God hath sent forth the Spirit of his Son into your hearts, crying, Abba, Father."


This is very key, The Holy Spirit is entering the heart! The earlier premise is that a new heart is given by the Holy Spirit then they may believe. However, the Spirit is entering the heart you have.

Ephesians 3:

16 that he would grant you, according to the riches of his glory, to be strengthened with might by his Spirit in the inner man;

17 that Christ may dwell in your hearts by faith; that ye, being rooted and grounded in love,

18 may be able to comprehend with all saints what is the breadth, and length, and depth, and height;"

Here is the product! Jesus is in your heart by faith!

Philippians 1:7even as it is meet for me to think this of you all, because I have you in my heart

; inasmuch as both in my bonds, and in the defence and confirmation of the gospel, ye all are partakers of my grace"

Here the Apostle Paul says his brothers and sisters in Christ are in His heart. Now if Paul is not uncomfortable with believers in his heart, How more natural is it to ask Jesus our Lord into your heart?!

Hebrews 10:22

et us draw near with a true

heart

in full assurance of faith, having our

heart

s sprinkled from an evil conscience, and our bodies washed with pure water."

Is our new heart sprinkled from an evil conscience?? No, we have the same heart that has been regenerated, but now our hearts have assurance in the truth of the gospel.


2 Peter 1:19

We have also a more sure word of prophecy; whereunto ye do well that ye take heed, as unto a light that shineth in a dark place, until the day dawn, and the day star arise in your

heart

s:"

1 john 3:

19 And hereby we know that we are of the truth, and shall assure our hearts before him.

20 For if our heart condemn us, God is greater than our heart, and knoweth all things.

21 Beloved, if our heart condemn us not, then have we confidence toward God.

22 And whatsoever we ask, we receive of him, because we keep his commandments, and do those things that are pleasing in his sight.

23 And this is his commandment, That we should believe on the name of his Son Jesus Christ, and love one another, as he gave us commandment.

24 And he that keepeth his commandments dwelleth in him, and he in him. And hereby we know that he abideth in us, by the Spirit which he hath given us."

We see the heart is not new and perfect, thus it is the same heart in our sanctification but the Spirit drives us since we are grounded in the truth of the gospel.

revelation 3:

19 As many as I love, I rebuke and chasten: be zealous therefore, and repent.

20 Behold, I stand at the door, and knock: if any man hear my voice, and open the door, I will come in to him, and will sup with him, and he with me.

21 To him that overcometh will I grant to sit with me in my throne, even as I also overcame, and am set down with my Father in his throne.

22 He that hath an ear, let him hear what the Spirit saith unto the churches."

Now the typical Calvinist response to this passage is that this is only to the church. Now the language is not to an invisible church but to local congregations and the decree for those with ears to hear seems a universal call. But even putting these aside, if you are a Christian and already saved then Jesus is literally still standing at the door of your heart knocking!!

Why would these particular Calvinists not ask Jesus in their hearts???